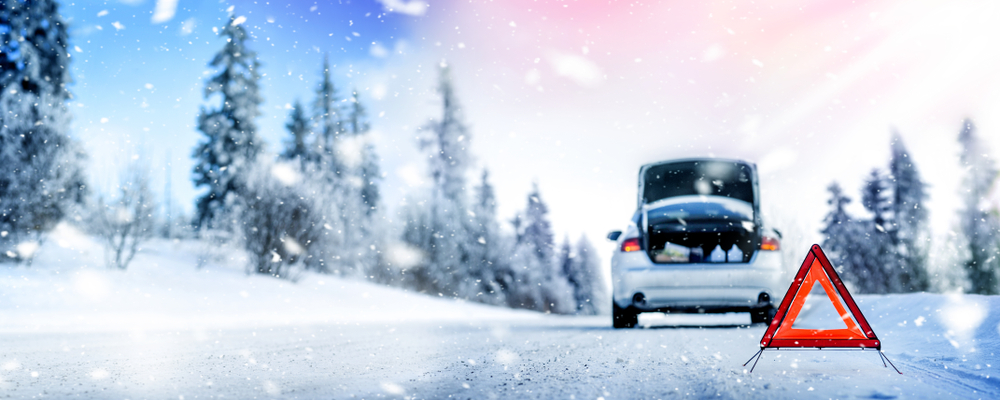 18 Jan

Winter Car Kit: Be Prepared for Any Emergency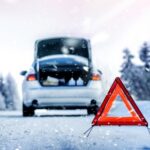 Is your car prepared for a roadside emergency? Do you have an adequate winter car kit packed and easily accessible in your vehicle? Is your spare tire in good shape? If not, read these winter survival tips, so you know what to do to prepare yourself and your car for winter driving.
Be Prepared For A Roadside Emergency
With a Winter Car Kit
Traveling in winter requires nerves of steel, the patience of a saint, and the courage of a lion. Okay, maybe not, but it doesn't hurt to keep those attributes in mind if you find yourself in a roadside emergency. Being prepared for the numerous dangers you might face while stranded in your car during winter weather can help save your life.
Stranded In A Snowstorm
The best way to avoid getting stranded in a snowstorm is to NOT travel right before or during a storm. Pay close attention to local weather reports and be aware of road closures before leaving on a trip beyond your local neighborhood. Notify family members or friends of your travel plans and check in with them as you travel. They can assist emergency personnel in finding you if you become stranded. 
Stay calm if you find yourself stuck in your vehicle during a storm. Remain in your car if possible and call 911. Signal your need for help with your hazards lights, road flares, and even a sign taped to the window. Periodically clear snow from around your vehicle, starting on the roof and working your way down. Conserve fuel by only running your engine (plus the heater & defroster) for 10 minutes per hour, with a window slightly cracked.
Be sure to clear snow from your tailpipe to avoid asphyxiation from carbon monoxide build-up inside the vehicle. Try to stay as warm and dry as possible. Remove wet clothing and wrap yourself in a blanket or dry clothing to help avoid hypothermia and frostbite. If you are traveling with kids or pets, huddle together for warmth.
Overnight Winter Survival Tips
If you are stuck in your car overnight, use these winter survival tips: Stay alert and use your supplies conservatively. Only turn on your flashlight when necessary. To prevent draining your car battery, keep your hazard lights off until you see an approaching vehicle. Tie a brightly colored scarf or bandana to your antenna or roof rack to attract attention. If it is not snowing or raining, raise your car hood. Sleep in shifts, if possible, so at least one person is awake at all times during the night.
Emergency Winter Car Kit
Several pre-made emergency winter car kits are available for purchase online and at your local car parts shop or big box store. You can always put one together yourself using this comprehensive list found below. Make sure to include anything specific to your individual needs (medications, extra eyeglasses, etc.) Pack items into a waterproof bin or box with a closable lid. Backpacks and duffle bags are also handy to contain these items.
Flashlight (with extra batteries) or Crank-Powered Flashlight

Whistle or Air Horn (to signal for help)

Wool or Thermal Space Blankets (one for each passenger)

Hats, Gloves, Scarves, Winter Socks, Boots

Air Activated Hand & Toe Warmers

Drinking-Water, Non-Perishable Food

Tissue, Paper Towels or Napkins, Baby Wipes, Plastic Trash Bags

Ice Scraper, Compact Snow Shovel

Quality Multi-Tool or Mini Tool Kit

Tire Chains or Cables

Jumper Cables or Portable Jump starter

Kitty Litter, Sand, or Safety Absorbent (for traction)

Flares, Glow Sticks, Reflective Triangle, and Vest

Emergency Candles, Metal Can, Matches, or Lighter

Cell Phone Charger

Deck of Cards, Mad Libs, Sudoku, or Crossword Puzzle Books

Pen, Pencils, Wide Tip Permanent Marker, Pad of Paper

Supplies for Infants & Children (if applicable)

Supplies For Pets (if applicable)
First-Aid Kit
Accidents happen when we least expect them. Having a good first aid kit can help ease the pain of minor injuries and help prevent more significant injuries from becoming life-threatening. Be sure to pack a first-aid kit with the following supplies:
Multiple Size Adhesive Bandages

Latex or Nitrile Gloves

Gauze Pads, Gauze Rolls

Adhesive Medical Tape, Elastic Bandages

Alcohol Wipes, Antibiotic Spray or Ointment, Burn Cream

Instant Ice Packs

Tweezers, Scissors

CPR Shield

Pain Relief & Anti-Inflammatory Tablets, Allergy Medication

First-Aid Treatment Guide or Booklet
Spare Tire Kit
Most people forget about their spare tire until they find themselves dealing with a flat tire or a blow-out. It is important to frequently inspect your spare for damages (like cracked rubber) and proper air pressure. In addition to maintaining the integrity of your spare tire, ensure you have all the equipment needed to change out your tire in an emergency.
Spare Tire

Jack

Tire Iron

Waterproof Ground Cloth

Work Gloves

Flares, Reflective Gear, Flashlight, or Hands-Free Headlamp
Spare Tire Maintenance in Plymouth Meeting, PA
Plymouth Auto & Tire Center specializes in tire maintenance, repairs, and replacements. Our technicians can also perform wheel alignment, tire balancing, and rotation services. Get your vehicle winter-ready with a complete tire inspection and spare tire maintenance service today.
Make An Appointment
Give us a call at (610) 825-6558 or visit our website to schedule your tire maintenance appointment.